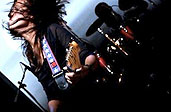 Genre: Youth, arts, politics

Duration: 1 x 58 min

Production Company:
ElectraMedia

Director - Producer:
Nitza Kakoseos D

Shooting location:
Havana, Cuba

Contact:
cubarocks@electramedia.net

Havana 2014. Cuba is undergoing rapid changes - irreversible it seems. In the Kingdom of Salsa; a sixteen year old girl takes some chords on her electric guitar. Sofia is the founder of a new young rock group . In official Cuba rock music has always been considered as imperialistic evil and decadence. But to Sofia and her band a new world is emerging, full of adventures, secret rockclubs, illegal recording studios, tattoo shops and ambitious dreams . Through their music they want to brake loose from old preconceptions , traditions and worn out political ideals and find an expression of their own to illustrate the new era they live in.