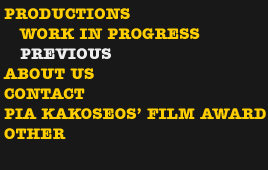 THE LABYRINTH OF TRUTH

Original Title: Sanningens Labyrint

Duration: 73 min

Director – Script - Producer: Nitza Kakoseos

Camera: Göran Gester, Michael Reiter, a.o.

Editor: Göran Gester and Wilbert Dominguez

Languages spoken in the film: English and Spanish

Shooting Locations: Miami, USA - Managua, Nicaragua

Produced by: Electra Media - Kakoseos Productions  AB in co-production with SVT

Pre-sold to: NRK, YLE, VPRO

Financed by:  SVT, UNESCO, ASDI, SFI, NF& TV Fond, Norwegian and Danish Film Institutes, Olof Palme Memorial Fund, The Avek Foundation, the Artist foundation


Sales: Sales@electramedia.net






This is a story of what happens after a civil wars ends, a revolution is over, the foreign correspondents have all gone home and a country, a people, a family are left to start anew. The Labyrinth of Truth is set in Miami, USA and Nicaragua and tells the story of how young Sofia goes back to her native city of Managua, after having lived in exile in Miami for over 20 years. On her personal mission to Nicaragua she wants to find out why the Sandinistas, in the heat and anger of the revolution, executed her father, Franklin Montenegro. Her father was a high ranking officer in Anastasio Somoza's military dictatorship. To Sofia her father is still a hero. In Managua she meets with her aunt, Franklin's younger sister, who fought on the opposite side in favor of the Sandinista revolution and who became an important figure within the new revolutionary government. Sofia is told that her aunt knows who killed her father. The meeting between Sofia and her aunt is tense and emotional. Will the aunt finally tell the truth about her brother and why he was killed?

The Labyrinth of Truth produced and directed by Nitza Kakoseos is a Latin American family drama not unlike the ancient Greek tragedies. The film displays the difficult path towards reconciliation in a war struck family where sisters and brothers fought on different sides.





Official selection at:
Havana  International  Film  Festival, Cuba,
Hongkong International Film Festival,
Tessaloniki Documentary Festival,
One World Festival Prag

Opening Film At:
Nordic Panorama Film Festival 2000

Financed with support from: